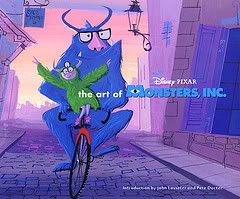 This book is filled with plenty of character design and set drawings. You'll read no making of the movie. There are also no stills from the movie.
The collection of concept art is very colourful, especially the pastel drawings by Dominique Louis and Ralph Eggleston. Every panel drawn by them is a delight to look at.
A definite buy for any Pixar fan or if you're buying for kids.
Visit the link beside to read more reviews on Amazon. If you buy from the link, I get a little commission that helps me get more art books for review.
Country-specific Amazon links for this book:
Amazon.com
|
Amazon.ca
|
Amazon.co.uk
|
Amazon.fr
|
Amazon.de
Check out other books I've reviewed also, with pictures:
Art book list
|
Design book list