If you have read The New Paper today, you'll find a travel story of Queensland Australia written by me. The trip was actually sponsored by Etihad Airways and Tourism Queensland. I thought it would be better if I can also bring everyone behind the scenes into Queensland by going into more detail.
It was a 4 day trip from 7 Nov to 12 Nov. There were four going on the trip, Karen from
Straits Times
Special Projects, Jocelyn from
Edelman
and Dahpne from
Harper's Bazaar
.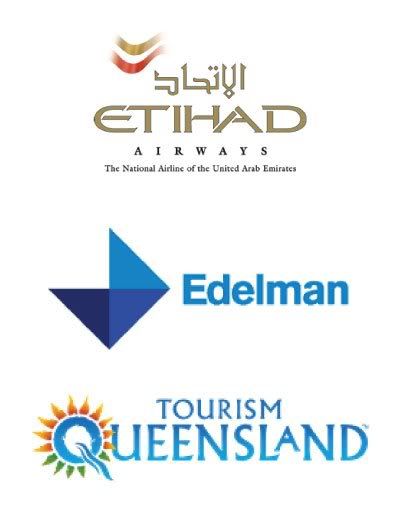 Etihad Airways
is the national airline of
United Arab Emirates
. They have generously provided the business class seat from their Pearl Zone, which is priced over $7000 inclusive of airport taxes. It is very luxurious. They had a limousine pickup service for your flight. At Changi Airport, you literally have a red carpet reception while checking in. Seriously.
The seat can actually roll down into a fully flat bed, as you can see in the photo above. I'm 1.8m tall and there wasn't even any need to bend my knees. Just right in front is a 15" LCD monitor with your in-flight entertainment system. I watched "
1408
" , and it's a damn good movie.
The business class cuisine was served with warm porcelain plates. You'll have a selection of wine to choose from too. Flying on a plane cannot get better than this.
The flight to
Brisbane Airport
takes 8 hours. If you're able to sleep on the plane, it takes 1 hour. The little red dot below is the airport.
Queensland
is the north eastern state of Australia.
Major attractions include
Gold Coast
,
Sunshine Coast
,
Fraser Island
and several theme parks.
The best time to visit Queensland is during summer where the temperature is actually cool. That's from November to around March. It gets colder at night.
It was drizzling slightly when we touched down at the airport. Our guide, Jane Hodges, was already waiting for us there. We then drove about 2 hours to
Conrad Jupiters
hotel for checking in. The hotel is only 15 minutes away from the beach.
Next, we head off to
Palazzo Versace
for lunch.
This is the most expensive hotel in Australia. They even had light Versace perfume pumped into the air conditioning system.
The design of the hotel is very exquisite and elaborate. The pillows on the bed had to be placed in specific orders. The Imperial Suite you see above cost over A$3000 per night.
That's Michelle and Kimberly who showed us around.
This is us in the lobby. From the left, Jane Hodges, Jocelyn, Karen, Daphne and me.
Two waiters at Vie restaurant where we had lunch.
This was what I had for lunch. You can see that they take fine dining quite seriously. This was what I had. Australia's famous for their seafood but note that it's not the only dish they are good at.
Just right outside of Vie is a calm marina harbour.
Immediately after lunch we took a
champagne sailing cruise
at the harbour. The beautiful yacht you see if designed by Elke and her husband Klaas. It's named "Heike" after Elke's sister who died in an unfortunate car accident. With the boat, they can bring her to sea with them.
This is Elke Kooij telling hilarious stories of guys who propose their girlfriends on the yacht.
Just over the breakwater is where those surfers were going. That's where the surf waves are. I also saw two dolphins but wasn't quite enough with my camera to snap a shot. If you're lucky, I was told, you can get to see whales too.
I managed to capture the ray of sunlight from behind the clouds casting onto Southport.
After that we headed back to Conrad Jupiter for the
Zingara
show.
The show's pretty long at 2 hours. It's a show with a little bit of everything. There's a musical with precision dance troups, comedy standups, laser light shows, optical illusions ending with a death defying motorcycle display. Photography's not allowed so I've used a publicity photo above.
For more of the photos I took in Queensland, check out my
Flickr photo set.
All the days in Queensland:
Day 1:
High Flying Queensland
Day 2:
Live in a Warner Brothers Movie Trailer
Day 3:
Eumundi Markets is Amazing